MATTIA PRETI. The Triumphant Manner - Keith Sciberras
Dettagli

Creato: Martedì, 22 Gennaio 2013 01:00
Ultima modifica: Sabato, 15 Dicembre 2018 08:23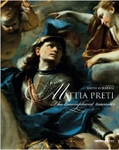 Autore: Keith Sciberras
Titolo: Mattia Preti
Sottotitolo: The Triumphant Manner
With a catalogue of his works in Malta
With contributions by Jessica Borg
testo in inglese
Descrizione: Volume rilegato, in formato 4° (cm 30 x 24); 496 pagine; ampio apparato iconografico a colori
Peso: Kg 3,8
Luogo, Editore, data: Sta Venera (Malta), Midsea Books, dicembre 2012
ISBN: 9789993274070
Prezzo: Euro 175,00
Disponibilità: In commercio
La ricerca per la realizzazione di questo superbo libro è stata coordinata dal Prof. Keith Sciberras (Ph.D., Direttore del Dipartimento di Storia dell'Arte dell'Università di Malta) autore di due saggi critici che compongono la prima parte del libro. Oltre 150 schede di catalogo sono state compilate con la collaborazione della D.ssa Jessica Borg dell'Università di Malta. Il libro illustra oltre 270 dipinti.
Questa importante monografia, pubblicata per il 400° anniversario dalla nascita del maestro, sarà un altro straordinario contributo a tutti gli appassionati di arte e di storia maltese.

Contenuti: Vita e Opere; Cavalierato e patrocinio artistico; Catalogo ragionato delle sue opere a Malta; La maniera trionfale 1659-1669; Trionfalismo sottomesso c.1669-1680; Maturità e ultimi anni: 1680-1699; Appendici: Elenco delle opere del periodo maltese fuori Malta; Attribuzioni/Attribuzioni controverse (dipinti in Malta), Lista di disegni d'epoca maltese; "Vita di Mattia Preti" in "Uomini Illustri di Malta"


2013 will mark the 400th anniversary of the birth of the artist Mattia Preti (1613-1699), who spent forty years of his working life in Malta.
Midsea Books, in collaboration with the Department of History of Art at the University of Malta, are working together to publish an outstanding book that discusses critically the artist's oeuvre in Malta.

Research for this superb book is co-ordinated by Professor Keith Sciberras, who is also the author of the two critical essays which compose the first part of the book. Over 150 catalogue entries are co-authored by Professor Sciberras and Ms Jessica Borg M.A. The book will include over 270 paintings. The images of the paintings in Malta are being taken purposely for this book by master photographer Mr Joe P. Borg.

Born in Taverna, Calabria, in 1613, Mattia Preti emerged as a leading exponent of the forceful Baroque of mid-17th century Italy, working in a tradition which brilliantly captured the characteristics of monumental dynamism and theatrical appeal. An extraordinary draughtsman and painterly virtuoso, he was quick with his brush and produced hundreds of pictures which spanned a career of some seventy years. His life-story can be easily and neatly divided in an early training and first maturity in Rome, his mid-years in Naples, and the nearly four decades that he spent on Malta between 1661 and his death in 1699. An artist-knight, his life was also conditioned by his membership in the chivalric Order of St John of Jerusalem, Rhodes, and Malta.

Preti's works for St John's Conventual Church inspired a major transformation within the church. The Baroque re-decoration programme which Preti was to direct transformed the interior of the Conventual Church into one of the most important nodes of Baroque art South of Rome. Preti was to assume responsibility of painting the entire ceiling and many altar paintings and lunettes. Moreover, he produced designs for the carved decoration that spread throughout the church walls, the inlaid marble slabs for the flooring and ephemera.
Preti's residency on the island did not go unnoticed and his circle of admirers grew beyond the circle of the Knights of Malta. The church and private patrons were attracted to his work. Owning a painting by the artist grew to become a desideratum. The artist's technique and method of painting was fast and he could rapidly execute large scale works. His inventive genius kept up with the pace of his technique and the artist thus produced a large corpus of paintings.

This lavish publication, which will mark the 400th anniversary from the master's birth, will be another outstanding contribution to all enthusiast of Maltese art and history.