NAPLES AND NEAPOLITAN OPERA - F. Michael Robinson
Dettagli

Creato: Mercoledì, 31 Agosto 2016 02:00
Ultima modifica: Lunedì, 20 Aprile 2020 11:54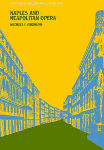 Autore: F. Michael Robinson
Titolo: Naples and Neapolitan opera.
Testo in lingua inglese
Descrizione: In 8° (cm 28 x 20), rilegato, pagine VI-4nn-281, molte fonti manoscritte di esempi musicali. Libro usato, ma allo stato di nuovo.
Luogo, editore, data: Oxford, Clarendon Press, 1972
ISBN: 978-0198161240 9780198161240
Disponibilità: No/ NOT available




'Neapolitan Opera' is a term that has often been applied to a type of Italian opera that gained worldwide popularity in the 18th century. This book focuses on the local, Neapolitan aspects of this type of opera rather than its international aspects.
It examines primarily the quality and variety of opera produced within the city of Naples during that period. But it is also concerned with why Naples became important enough as an operatic centre to influence world trends, and it may help establish criteria for judging the degree of similart8iy between 'Neapolitan Opera' at Naples and 'Neapolitan Opera' elsewhere. Contents: The Neapolitan Environment; Heroic Opera - the Texts; Heroic Opera - the Music; The Orchestral Items; Comic Opera - the Texts; Comic Opera - the Music; Manuscript sources of the musical examples; Bibliography; Index.

Michael Finlay Robinson (born 1933) is an English composer, musicologist, and academic. His scholarly work focuses on opera of the 17th and 18th centuries; and in particular the development of Italian opera during the 1700s. His publications include the books Naples and Neapolitan Opera, Opera Before Mozart, and A Thematic Catalogue of the Works of Giovanni Paisiello. He also contributed to works, the Research Chronicle of the Royal Musical Association, The New Grove Dictionary of Music and Musicians, and to Music & Letters, Soundings, and other music journals. Robinson earned B.A., B.Mus., M.A., and D.Phil. degrees from New College, Oxford. He was awarded an Honorary D.Mus. in 2009 by Oxford University for his work as a composer. He began his teaching career at the Royal Scottish Academy of Music and Drama in 1960-61 and has since served on the music faculties of Durham University (1961-65), McGill University, and Cardiff University. In 1989 he was a visiting professor at the University of Naples. Upon his retirement in 1994 he was named a professor emeritus of Cardiff University.

Indice:
The Neapolitan Environment
Heroic Opera - the Texts
Heroic Opera - the Music
The Orchestral Items
Comic Opera - the Texts
Comic Opera - the Music
Manuscript sources of the music examples