TWEETING DA VINCI - Ann C. Pizzorusso
Dettagli

Creato: Martedì, 26 Novembre 2019 02:00
Ultima modifica: Martedì, 26 Novembre 2019 10:15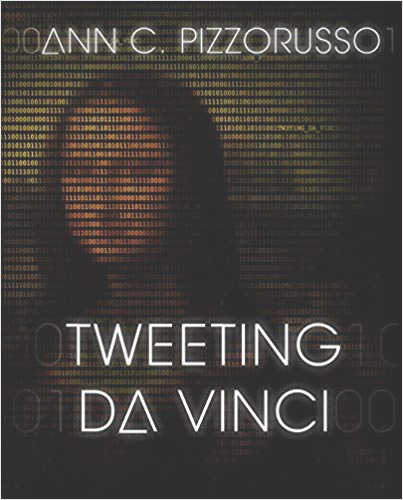 Author: Ann C. Pizzorusso
Title: Tweeting Da Vinci
Book design and layout_ Donalf Partyka
Cover design and illustrations: Francesco Filippini
Hard cover (cm 23 x 18); 244 pages; b/w and color illustrations
Place, Publisher, date: New York (USA), De Vinci Press, 2014
ISBN: 9781940613000


Price: Euro 24,39


Special Pice: Euro 18,00
Availability: 1


If Leonardo da Vinci were alive today, he would not just be on the cutting-edge of the art scene; he would also be at the forefront of the technological revolution, the internet, as well as scientific and medical advancements. Yet, even with this great mix, there was something else he offered-he was a great geologist.

So now, he's going to be our guide to Italy, revealing many of the secrets this land has held for millennia. Many ancient scientists, historians and writers tried to understand this fascinating place, but whatever progress they made was eliminated either by time or by scientific positions which held that the ideas were folklore. Interestingly, it is now the advances in science and scientific testing instruments which are proving that which the ancients knew. You'll learn about: • radioactive waters that are good for our health, found on an island thought to have a fountain of youth • the secret of living in areas with positive and negative magnetic fields, and how they influence our health and well being • a visit to the real Underworld, with scorching steam and noxious vapors • how amber has healing properties to reduce body pain and cure throat ailments • mysterious roads carved 30 meters into volcanic rock which crisscross necropolises • ancient votive offerings in the form of body parts which can be found today as religious candles • sacred cave drip waters used by women to insure fertility and abundant breast milk • the stairway to Heaven as noted in the Bible and the Led Zeppelin song • unexplained "earthquake lights" that are thought to be UFOs • the ominous or auspicious meaning of thunder occurring on certain days • the oracles who forecasted the future while in a trance induced by inhaling gases emitted from the earth You'll see how the dramatic geological landscape of Italy has provided abundant Earthly inspiration for some of the greatest cultural, literary and artistic achievements of mankind.